Medieval Crimes – Murder Mystery Event
December 31, 2017 @ 9:00 pm

-

January 1, 2018 @ 1:00 am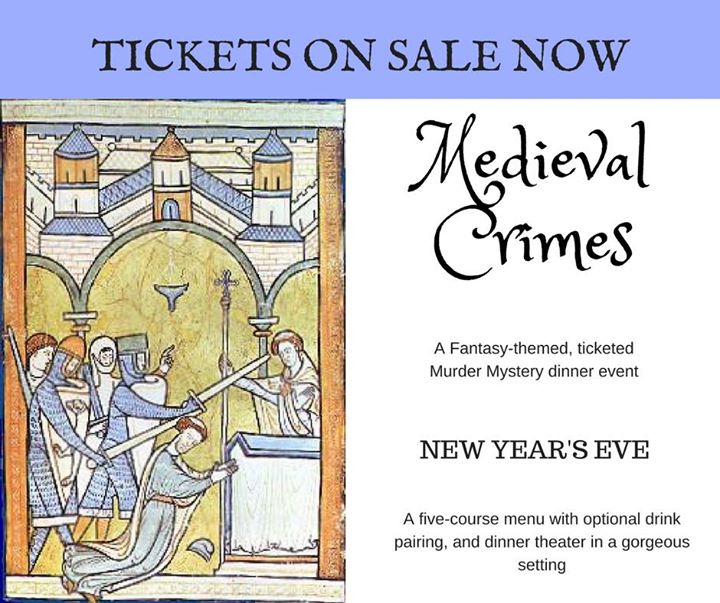 Calling all adventurers! What's a better way to celebrate New Year's Eve than with fellow Mages and Dragon-Slayers in our little Bellinghamlet's very own Adventurer's Pub? How about a healthy dose of MURDER?? Darren Gravebolt has gathered a host of Lords and Ladies, Wizards and Warriors to his pub in order to ring in the medieval new year, but things are thrown into chaos when one of the guests is murdered! It'll be up to YOU to discover who the killer is among a cast of fantasy characters. Was it the famous adventurer Cornelia Swiftblade? Perhaps Riddleme, the Jester that only tells the truth (and also lies)? Maybe it was (gasp) GARY???
Enjoy a full five-course medieval-themed meal and themed drinks as you solve this mystery with your fellow adventurers. Costumes are not required, but what's a rogue without her trusty tunic, or a bard without his lute?
Doors open at 8:30pm, with the fun beginning shortly after. Annual members will receive a special surprise/treat when they attend this event. You will be asked to provide your membership info when you purchase your tickets if you are an annual member.
The $60 ticket fee includes a five-course meal, non-alcoholic beverages (soda, water, tea or coffee) and a champagne or non-alcoholic sparkling cider toast, as well as a service fee for your waitstaff.
An alcoholic beverage pairing is available as an add-on at checkout. The beverage pairing menu is still being sourced, if you are not the adventurous type, you can add it on later or, have it added your tab the night of the event if we have enough of the specialty beverages on hand. It will be at least one beverage per course, and will include a mix of alcoholic beverages from mulled wine or cider, mead, beer, wine, and cocktails.
More information and an FAQ can be found on the tickets page.