CRYSTAL CLEAR AUDIO & VIDEO · INTERACTIVE · INTRO & ADVANCED CLASSES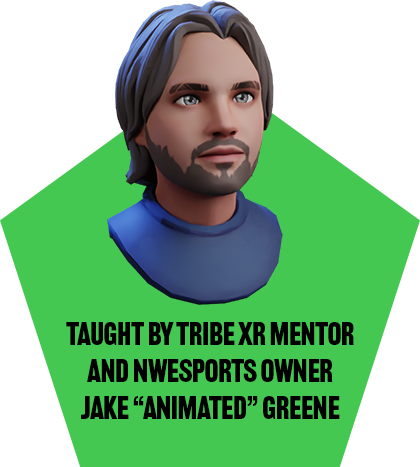 Hey team, Jake "AnimateD" Greene here, owner of Northwest Esports and Tribe XR mentor – I'm motivated to impart detailed, useful information to you on how to really leverage the free software, OBS Studio.
The last 6 years I've been using OBS Studio to capture, broadcast, incorporate, and punctuate my online presence in multiple ways. From eSports broadcasts to virtual reality digital entertainment events, I've broadcasted now thousands of hours reliably and efficiently using OBS Studio.
This is not your average OBS Studio class. Understanding digital broadcasting can be overwhelming, and often using YouTube and other means leaves more questions than answers. Register now for my interactive classes of up to 10 students, breaking down each piece of the software and highlighting brass tacks functionality to really get the most in your streaming journey.
Want to take it a step further? I'm now offering advanced classes, including interactivity, integrations, monetization concepts, virtual audio and video capabilities, and more. Registration now available!
Classes are held in Discord. You will be invited to the server upon purchase of a ticket.
Please review the hardware requirements on the tickets page.
Intro Class
Software & settings breakdown
Video & audio encoder settings
Sources deep dive
Transform options
Aspect ratios & resolutions
Bitrates
Source Filters
Protocols
& Much MORE!
Advanced Class
Integrations & interactivity
Virtual video & audio
NewTek NDI & Plugins
Team-based & remote productions
OBS Remote functionality & configuration
Monetization concepts
Advanced Source Filters
Multi-stream functionality
& Much MORE!
1-on-1 lessons available. Email me at jake@nwesports.org
Check out some of my broadcasts below 👇